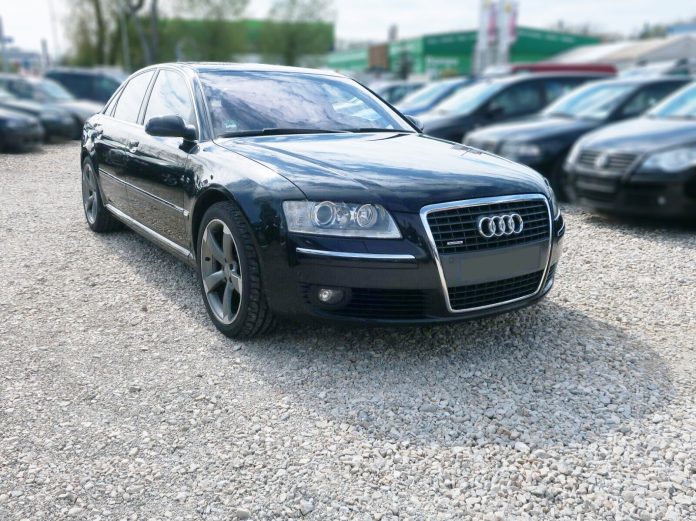 With a budget under 10 000 € / $11 760 you can easily get this Audi A8 which still has many interesting features and qualities like the: quattro 4WD system, full aluminum body, a very well built interior and plenty of luxury features (if the car is equipped with them). This A8 shares the suspension and some of the electronics with the VW Phaeton and Bentley Continental Flying Spur from that time so these cars are more or less related. However, because of the aluminum body the A8 is lighter, it's not rusting + it handles and feels like a smaller car than it actually is. On the other side the heavier Phaeton and Bentley have a bit better sound insulation, and they are a bit more stable at very high speeds because of the bigger weight.
But back to this A8.
This was the very first Audi which was equipped with things like:
MMI multimedia system
electronic parking brake
keyless entry
soft close doors
electronic trunk opening
4 zone AC
adaptive air suspension (yes the Allroad had the air suspension earlier, but remember that on that car you can't change the stiffness of the shocks)
So plenty of new stuff was featured in this A8 for the first time (of the brand), which means only one thing: you can expect some issues with some of this interesting stuff.
And lets not forget that this car was featured in the two Transporter movies, which are not particularly great movies, but they really are great as an ad for this A8. Either way, the first part of the movie series really is the best and not only because of the iconic BMW 7 series E38… But this is not a movie review…
Interior
The interior of this A8 doesn't have much issues. I mean the build quality is really good, all the switches are where they should be and the MMI multimedia system still works kind of OK without big lags or freezing, even though it's obviously outdated at this day and age (the facelifted cars at the end of production made from late 2008 got a bit faster updated MMI system with improved graphics). The optional equipment list is huge so let me mention a couple of more interesting stuff like the:
fingerprint sensor for drivers profiles which is a very interesting feature – but it isn't there to prevent someone else to start the car, so anybody can start the car if he has the key, this sensor is there to only store the drivers profile (so the adjustment of the seat, AC or radio settings)
solar sunroof (powers the blower motor during hot days during parking)
double glazed windows
really impressive Bang & Olufsen sound system with those little pop up speakers in the dash
electrically adjustable everything including the height of the front seat belts and massage seats (don't expect massage miracles this is just an early primitive system)
fridge, and all the other stuff…
Most of the used materials are durable which is great, but:
–the buttons on the driver's side door panel are often worn
–the MMI center button surface is often worn too
–the small storage door on the driver's side lower dash can deform over time
–the small plastic trim on the optional front seats can fall out
+pay attention to those small speakers in the dash of the b&o sound system, since the speakers themselves can break (cracking noises) or the electronic opening mechanism can break too and then they won't come up + check the dash center speaker since that can break and make various noises as well
replacing dash center speaker + accessing b&o dash speakers
Body, rust protection
The body of this A8 is made entirely from aluminum which is great since it's not gonna rust like the regular steel. However the aluminum can corrode as well – even though not that easily and absolutely not that fast as the steel + there are a couple of weak spots on the body, so mainly on cars used on winter salty roads:
the tailgate trim corrosion is a pretty common optical flaw (not US cars)
the lower door trim inner steel part is going to rust from the inside and thus deforming the trim itself
cases of chipping and bubbling paint on the black triangular trim on the rear doors are not uncommon
and lastly check for corrosion bubbles mainly around the windscreen
Possible problems
This A8 has numerous more common possible issues:
1. MMI screen mechanism
-the MMI screen opening mechanism will fail at some point because of the broken plastic gears. To fix this you can buy aftermarket metallic gears.
---
2. Tail lights
-mainly the inner tail lights are more prone to cracks, fading and water leaks. The water will obviously ruin the electronics in them, so if your lights are still ok then you should at least preventively remove them and put silicone on the edges. The outer tail lights can have issues with water leaks too but not that often.
Next, the LEDs in these tail lights can fail. A new tail light is fucking expensive, but luckily it is possible to replace the individual LEDs only. However keep in mind that if you replace the individual LEDs and keep some old LED bulbs, then you will see a difference in brightness of the old and new LEDs. This would not be a huge issue, but the other old individual LEDs are gonna fail sooner or later too. So in this case the best solution is to replace ALL of the individual LEDs with the new ones.
how to disassemble tail lights video 1
how to disassemble tail lights video 2
how to replace LEDs in tail light video
---
3. Hood release cables
-the bonnet/hood release cables are known to snap. In this case you won't be able to open the hood very easily so it's good to preventively replace all of them. (there are 3 hood cables in total)
how to open hood with broken release cable vid
---
4. Electric tailgate
-the electric tailgate can have issues with opening or with closing / or it won't work at all. Interestingly there are 2 types of motors, a weaker in before facelift cars and a stronger mounted in cars from 2008. The stronger motor can be retrofitted but it's not very cheap.
long post how to fix the weak electric tailgate
---
5. Rear window
-the optional double glazed rear window on these cars can delaminate – I guess this is the right word for this. Now this is interesting since this A8 can be equipped with either a regular rear window which is usually fine, or it can have the optional double glazed solar window which has very thin barely visible heating lines. This special window can start to fog up or delaminate in other words and this will cause that the rear window defroster won't work.
---
6. ABS, ESP
-problems with not working ABS and ESP systems are not uncommon either. This can be caused by: a faulty ABS module, a faulty brake light switch or by a faulty ABS speed sensor
the ABS electronic module can simply break (on petrol engines mostly because of heat, on diesel engines mostly because of vibrations) The module can be usually repaired which is cheaper than a new part.
brake light switch can break causing: ESP/ABS lights on = not working + not working cruise control, stored brake switch fault code + sometimes it can also cause that the gearbox is not gonna change gears properly or the brake lights will be illuminated without pressing the brake pedal
ABS speed sensors can just simply break (new sensors are cheap)
+ sometimes the wiring can be damaged too – damaged wiring video
---
7. AC system
-as usual check the AC properly before buying since:
the blower motor is gonna fail sooner or later
there are cases of failed heater valves causing the AC to get stuck on cold or hot (same issue as in the Audi A6 C6)
on older cars the little servo motors for the air flaps under the dash can break
---
8. Steering lock
-the electronic steering lock can fail and you won't be able to start the car, but for more information about this check out this video about this specific issue
---
9. Windscreen wipers + washer
-on cars used on winter salty roads the windscreen wiper mechanism can seize up because of rust + the windscreen washer motor can fail more often + the hoses to the front bumper/headlight nozzles can split and leak
Other stuff
Keyless entry:
the keyless entry door handles can fail, mostly the lock button wiring can be corroded or the microswitch can fail (if your lock button on the exterior door handle is not working then the wiring which goes to this button can be corroded)
occasionally the keyless entry module can fail + it can drain the battery (some transistors and some resistors in it fail, but it can be repaired if you find someone) the module is under the driver's seat
Electric parking brake:
the parking brake can get stuck/jammed or it can stop working
the wiring can be faulty
the motors can fail
or sometimes the module itself will fail
Last but not least before buying check for fault codes with an OBD scanner and check all the electronics properly since all that usual shit can break more often too, like the: parking sensors, window regulators, heated seats, adjustment of the exterior mirrors, rear electronic sunshade, the soft close door feature can fail more often, and it's worth to check the electric front headrest adjustment too.
how to repair soft close microswitch
"owners often spill drinks onto the MMI panel and thus ruin it (so before buying check the buttons on it if they are not sticky)"
Listen I'm not saying that all of this shit will inevitably break, but keep in mind that this is a complex car and shit breaks. The next thing to keep in mind is that issues with battery draining are not uncommon either. But to minimize the electronic issues keep the battery and the alternator in good condition and keep the interior bone dry so pay attention to water leaks into the interior!!
Water leaks into the interior
There are basically 3 sources of water leaks:
1. SCUTTLE DRAINS
-the scuttle drains are buried deep down under the windscreen plastic scuttle panel. Long story short: they can be clogged → which will cause water accumulating in this area → which will destroy the blower motor and the blower regulator + it will obviously leak into the interior and into the expensive electronic modules !! So occasionally remove the plastic scuttle panel and clean this area as much as you can, and also clean the rubber drains themselves located in the middle under the blower motor housing – you can access them from under the car.
2. SUNROOF DRAINS
-then there are the front and rear sunroof water drains which can be clogged and let the water in the interior as well. The front sunroof drains end behind the front wheel well liners, so first remove the wheel well liners and clean the endings (+you should make bigger hole in the endings to let the water drain faster). To properly clean the rear drains you will have to remove the side parts of the headliner – and in this case you can clean them with compressed air. However most of the time it's enough to only clean the endings of these rear drains which are located near the rear shocks + here you should also make bigger hole in the endings to let the water drain faster.
rear sunroof drain endings location video
cleaning front and rear sunroof drains video (not in english)
3. AC DRAINS
-lastly there are 2 AC drains under the dash. One is on the driver side and the other is on the passenger side. They can also get clogged and leak water on the front footwell area, but luckily you don't need tools to reach them so check out this video how to clean them.
Suspension
This A8 is standardly equipped with the adaptive air suspension which is all great and awesome, but:
the air compressor is gonna fail
the air struts can start to leak anytime
the link rod ball joints of the height sensors will seize up over time (check/clean and eventually lubricate them)
AIR STRUTS
The air struts have a weak point which is the air valve inlet piece. Long story short, if you are using the car on winter salty roads, then this place will sooner or later start to corrode and later even crack – and you will have an air leak. So it's good to preventively put wax or something on this place.
If the car lowers overnight then your air struts are leaking and you should replace them as soon as possible. And if the car has more than 10 years then you are basically on borrowed time when it comes to air struts, so they can fail at any time. If they fail and the air leaks out of them, then you will end up with a barely drivable low rider which is not good. But you have a couple of choices how to fix this:
you can buy a new genuine air strut which is fucking expensive
a good quality aftermarket strut which is cheaper
a refurbished strut which is even more cheaper
or you can buy just the air bag itself and replace it yourself which is the cheapest
Just keep in mind that a refurbished strut can fail pretty early (this depends on what company refurbished it), + if you are gonna buy a Chinese air strut or a Chinese air bag itself then in this case the lifetime of the part is also questionable!
Last but not least, the residual pressure valve can get stuck – mostly on the rear air struts. In this case the rear of the car will be stuck usually in the highest position – more info about this in this video
!!!!! REPLACE THE AIR COMPRESSOR RELAY !!!!!
As these cars are getting older there is a higher chance that the air compressor relay gets stuck and in that case the air compressor is gonna work until it burns out (or until you disconnect the battery)! So it's good to replace the cheap relay preventively to save the compressor/eventually to prevent fire from the overheated compressor. (By the way, if you are replacing the compressor then it's advised to replace also the compressor relay at the same time because of the already mentioned risk.)
how to replace air compressor relay video
---
Other suspension components
The upper control arms and drop links can be easily worn even before 150 000 km, so check them visually for damage and check for clunking, knocking or rattling sounds from the front suspension. But you should check all the other control arms at least visually too, since after 200 000 km – 250 000 km the lower control arms can be worn as well.
Lastly, listen for strange humming / rumbling noise which will increase with speed. This indicates worn wheel bearings which can be more often worn sometimes even after 80 000 km-but mainly on cars made to 2006.
---
Brakes
This car was available with:
standard steel brakes
optional ceramic brakes
The carbon-ceramic brakes are awesome, powerful, they don't rust, don't warp and they can withstand a lot-even more than 200 000 km. BUT they are not gonna last forever and a complete set of brand new genuine ceramic brakes costs more than $20 000. The good thing is that it is possible to convert these ceramic brakes to conventional steel brakes + if you buy a car with less than 150 000 km then you should still have a good amount of life left on the brakes.
Petrol engines
Before I start rambling about all the petrol engines I have to mention a very common problem related to the coolant reservoir which can crack and leak coolant, so be prepared to replace the coolant tank if it was not replaced in the past.
4.2 V8
From the petrol engines the most reasonable choice is the 4.2 l V8 with 335 hp. The reliability of this older engine is not that bad so with proper maintenance it can last a long time even though it has a couple of specific issues:
-the intake manifold plastic linkage will break at some point, but you can buy aftermarket mettalic linkages (link for the best quality linkages, but you can find them cheaper too)
-the cam chain tensioners can be worn usually after 200 000 km or 230 000 km which is not positive since you can end up with bent valves and shit if you dont replace them in time
-the infamous oil cooler or in other words oil filter housing pipe leak. Long story short a small plastic coolant pipe will crack and leak coolant and fixing this is not the easiest job. But you can buy an aftermarket mettalic tube which is gonna last forever (link for the best quality tube, but on ebay you can find it cheaper too)
6.0 W12
The biggest petrol engine is the second best petrol engine choice. It's powerful enough and it doesn't have any major problems – so with proper maintenance it can last a long time as well. But you should definitely keep bigger amount of money for the maintenance of this unit, since there is no space around the engine – so replacing certain parts or fixing some leaks will require either a lot of disassembling and a bit of creativity or removing the whole engine completely without being creative. It's not easy to replace some basic things like the: alternator, starter, accessory belt, pulleys, water pump or some hoses → so for all of this shit you either remove "only some parts and be a bit creative", or remove the whole engine. Obviously the fuel consumption of this unit is not small, but it's a W12 so that should not be a surprise.
---
3.0 V6
The 3.0l V6 is essentially not the worst engine in the world, but I would avoid it since it is rare and not very powerful + it also doesn't have the best reputation. In other words, issues with the catalytic converters, camshaft adjusters, misfires, oil consumption, and even cracked cylinder heads or cracked engine block can occur + adjusting the timing belt after replacing it is not the easiest + on early versions of this engine: the camshafts and the cam followers can be more worn too → mainly if the previous owner did long oil change intervals. Of course I'm not saying that this is a horrible engine and it can't whitstand 300 000 km or more, but it's just simply not worth it.
---
Direct injection engines
Afther this there are only the newer direct injection engines. They can have more often issues with faulty injectors, carbon build up, faulty camshaft adjustment solenoids or leaking seals on them + there are also the high pressure fuel pumps which will leak fuel or rarely fail.
high pressure fuel pump fuel leak location video
2.8 FSI, 3.2 FSI
The 2.8 FSI and the 3.2 FSI are actually not bad engines, so except the usual direct injection issues, leaking high pressure fuel pump and some other leaks they are usually fine.
4.2 FSI
On the other side the 4.2 l FSI can have issues with the direct injection related stuff and also with the intake manifold plastic flaps which will get stuck, break and fall apart usually after 200 000 km or 250 000 + there are 2 electric flap actuators which can fail too. However cars made from 2009 (very late 2008) have an updated more simpler plastic intake manifold which should not cause issues. /the old problematic intake manifold is made from magnesium, the newer reliable is made from plastic/
Then various oil and coolant leaks also gonna appear on various spots of this engine, and to fix some of them you have to remove the whole engine.
S8 5.2 FSI V10
Last but not least there is the fantastic S8 version which has a fantastic 5.2 l V10 FSI engine which can have fantastic issues. I mean holy shit, I would rather have some engine powered by squirrels or hamsters, but lets fuckin start with the list:
-the direct injection related issues are gonna occur
-the complex variable intake manifold will have the same issues as described earlier, but in this case it can fail usually earlier = so even at around 100 000 km. That's why before buying it's good to open the hood and check for a rattling noise from the intake manifold mostly from 1000 up to 1500 RPM. This rattle indicates excessive play or broken bits in the intake manifold flap mechanism.
–oil leaks are gonna sooner or later appear on this engine too, so in this case you have to be also ready to remove the whole fucking engine to fix some of them + there is some coolant hose fitting at the rear of the engine which will disintegrate and leak coolant, but I can't be bothered to find out more about this. So all in all, you have to expect oil and coolant leaks which are not gonna be always easy to fix.
-this engine has 4 catalytic converters and 8 O2 sensors which is awesome since all of this shit is gonna break, mainly if you have leaking injectors. And the funniest thing is that because of the lack of space you have to remove the engine to replace all the O2 sensors. Also because of the lack of space replacing other certain parts will require either a lot of disassembling around the engine or removing the whole engine completely. For example: the dealer is gonna remove the whole engine to replace the starter, but an independent mechanic can replace the starter without engine removal.
+ there is a bonus issue related to excessive oil consumption which can be caused by the damaged cylinder walls. So there are numerous cases when the engine block was replaced because of this even under warranty. On the other side this is not extremely common and some say that the engines made from 2008 don't really have this issue anymore because they improved them, they say. I'm not interested in finding the complete truth in this, so do with this information whatever you want. All in all, a reasonable amount of oil consumption is acceptable, but if your engine consumes 1L of oil every 1 000 km then there is a very high chance that the cylinder walls are damaged. + A faulty PCV valve can cause excessive oil consumption too ! So if you got oil consumption then first check the PCV !!
---
Coolant leak which can kill the 4.2 FSI and 5.2 FSI engines
The rear timing chain covers of these engines do have a hole in them thru which the coolant flows. This would be fine, but it's not. It's not fine, since the coolant seal on these covers can fail and let the coolant leak directly into the engine-into the oil. Long story short: If you don't catch this early then you will end up with a destroyed engine.
"All petrol engines: the exhaust flexible pipe will break at some point so check it before buying."
"All petrol engines: expect vacuum leaks and faulty PCV."
Diesel engines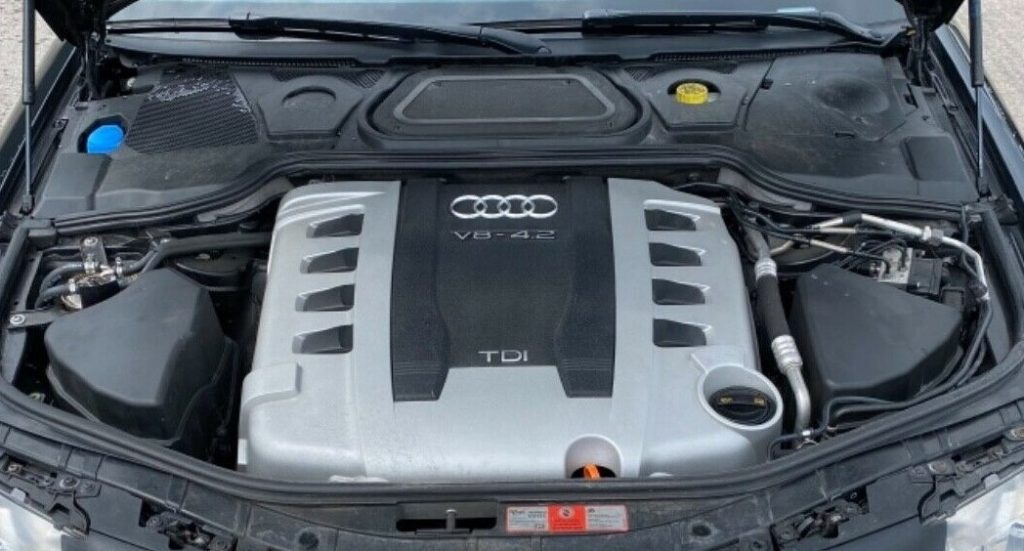 From the diesel engines the most reasonable choice is the 3.0 TDI, but the 4.2 TDI is not a bad engine either mainly if you have a bit more money for the repairs. Both of these units can easily reach 400 000 km or 500 000 km, however they will have some issues:
-First, there are the variable intake manifold flaps which can fail. In this case you get only a check engine light, so the car will drive fine. The flaps can be stuck, loose or the actuator motors can be faulty.
-Then on the 3.0 l TDI it's also good to check and eventually replace the crankshaft pulley mainly in cars which were used on winter salty roads. Since over time the inner part of the pulley will rust out and separate from the outer part. In this case the accessory belt will jump off so this will obviously leave you stranded.
-it's good to keep in mind that the high pressure fuel pump has a separate belt and a tensioner. Most of the owners don't even know that there is a separate belt for the high pressure fuel pump, so it's good to replace these two parts preventively.
-if you are buying a car which has around 300 000 km then be prepared to replace the alternator since its lifetime is approximately the already mentioned 300 000 km
-next, the injectors can be faulty on both of these engines but usually just after 200 000 km. Of course they can last way over 300 000 km as well, but this depends on many different things. But all you need to know is that if you got faulty injectors then you can most of the time notice a couple of signs like the: occasional light grey smoke from the exhaust while acceleration or at idle, issues with starting the engine or also a slightly bouncing idle when the engine is warmed up.
-of course oil leaks are also gonna occur but mostly after 200 000 km or 300 000 km. And because of the lack of space they are more expensive to fix on the 4.2 l TDI.
-lastly, the turbochargers are also gonna fail, but usually just in high mileage cars (after 300 000 km), but on more abused cars obviously earlier. Replacing the turbocharger on the 3.0 TDI is not hard, but the 4.2 l TDI has two turbochargers on the sides of the engine and to replace them you have to remove the whole fuckin engine.
4.0 TDI V8 ?
But what about the older 4.0l TDI V8? Well, I would not recommend it even though it looks pretty similar to the 4.2l TDI. But it's just not worth it since it can have more often issues with the timing chain mechanism even at 200 000 km, it also has the variable intake manifold flap mechanism which is different than on the other two engines, but it doesn't fucking matter if it's different since it will of course fail too + the 2 turbochargers are gonna fail too and you have to remove the engine to replace them, injectors are gonna fail too, the crankshaft pulley is gonna fall apart like on the 3.0 TDI, it has 2 ECU-s and overall it's a bit more mechanic unfriendly engine than the 4.2 TDI. (all of these issues can a lot of times occur around 200 000 km, so earlier than on the other 2 engines. But I'm not saying that this engine can't reach 300 000 km or 400 000 km without some of these major issues, however there is a much higher chance that it won't)
+keep in mind that the coolant tank can crack and leak coolant even in cars with the diesel engines
Timing chain
All the engines are equipped with timing chains except the older 3.0l V6, 3.7l V8 and 4.2l V8 petrol engines which have timing belts-which you should change every 120 000 km with the water pump, pulleys and pulley screws.
On the other side the timing chain mechanism is usually fine at least up to approximately 300 000 km. However sometimes it can get worn much earlier-mainly the tensioners, but mostly on the petrol engines and on the 4.0l V8 diesel engine. So check for a short rattle at cold start and keep in mind that you have to remove the whole engine to change that damn chain mechanism.
---
Transmissions
This A8 can be equipped with 2 types of automatic transmissions.
-Most of these cars are equipped with the regular 6 speed Tiptronic which is mostly reliable. However after 250 000 km the torque converter can be more worn mainly if the previous owner never changed the gearbox fluid. + if you are buying the more powerful S8, W12 or the diesel V8 models then keep in mind that they are more prone to have issues with the gearbox sometimes even before 200 000 km-requiring a repair or rebuild. This phenomenon is caused by the more enthusiastic driving style of the owners, lack of oil changes and because of the bigger stress on the gearbox caused by these powerful engines.
-Then there is the more rare Multitronic CVT gearbox which is still not very reliable, although with regular oil changes and with a regular/not aggressive driving style it should withstand 200 000 km. But of course after this mileage point the lifetime of the gearbox starts to be questionable. (the Multitronic was available ONLY in front wheel drive cars)
quattro 4WD
Most of these cars are equipped with Quattro which is still that good, old school mechanical and reliable 4wd system so it usually doesn't have issues even in high mileage cars. Although it's of course good to occasionally at least change the oil in the front and rear differentials, because mainly in the S8, W12 or V8 diesel engine models they are under a bigger stress so they can get worn and develop noises.
damn power steering fluid
Lastly it's pretty damn important to check the power steering fluid level regularly and also replace the fluid to at least miminize issues with the power steering system and to extend the lifetime of the pump and the rack. Since there are more and more cases of worn power steering pumps causing whining noises + leaking steering racks and leaking power steering hoses can occur too, so check all this shit before buying.
On the S8 version there is a common power steering return hose which will fail sooner or later = and leak power steering fluid, for more informations about this check out this link.
To summarize things up: the most reliable and most reasonable engines are the older 4.2l V8 petrol and the 3.0l TDI diesel engine. But if you have more money for the repairs then the W12 petrol engine or the 4.2 l TDI are pretty damn good choices as well. Obviously if you have enough money or you can fix the car yourself then you can buy whatever you want even an S8 with monkeys and gnomes inside, but it's not really worth it.
Then as usual:
-find a good independent mechanic
-avoid cars with performance upgrades
-and keep approximately 5 000 € for the possible repairs
If you have personal experience with this car or more information about it, then you can write it into comments!